Tip #2: Increased Stability Fishing Rough Terrain
Stability is key in life as well as fishing, and the same goes for your fishing rods. Whether it's steep banks, rocky shores, cliffs, jetties, or anywhere else, it's tough to find an even surface to set your gear down when fishing rough terrain.
Our quick and easy Rod-Runner Tip #2 is perfect for these situations! Now while Rod-Runners are great for heading offshore, it's really land based anglers that get the most out of them, and put Rod-Runners to the test in the toughest fishing environments.
BALANCED ROD-RUNNING…
Most anglers quickly determine their ideal rod holder setup, and they'll usually load the same rods in the same holders, which almost always turns out to be the most balanced setup. The more evenly you can distribute the weight of your fishing rods between right and left sides, the more balanced your Rod-Runner.
You can also improve balance even further by making sure the back of your Rod-Runner sits on two outside fishing rod butts instead of just the center rod butt. If that's not possible with you're specific rod setup, don't worry, Tip#2 should be able to help!
Like Tip #1, this Rod-Runner Tip #2 is very simple, but not obvious at first. Just remove the center holder, and lock it back into the Rod-Runner higher up, so only the bottom of the rod holder is locked into the Rod-Runner. That's it!
This not only improves the odds that the Rod-Runner will balance on two outside fishing rod butts and increase stability, but it's also perfect for fly rods and short butt fishing rods.
An added bonus being your center rod & reel will sit higher off the ground!

IN MORE DETAIL…
The concept being balance Rod-Runners on as many points of contact to the ground as possible. Along with the two front Rod-Runner legs, the other points or point of contact will be the center fishing rod butt only or the two outside fishing rod butts which is ideal. Basically 4 points of contact with the ground are better than 3 points when it comes to balance.
If loading only fly fishing or short butt rods in the Rod-Runner, the third point of contact with the ground, aside from the two front legs, will be the base of the center holder. However, when using Tip#2 and moving the center holder up, you increase the contact points with the ground; the Rod-Runner is more stable, balancing on the base of the two outside rod holders, instead of just the center rod holder.
You can move rod holders up or down on any Rod-Runner caddy and on our new Uni & Tri-Mount rod racks and mounts! However, the real benefit and increased stability comes from moving the center rod holder up specifically!
Like we mentioned before, no matter what surface you fish on, it's almost never going to be level. Which is where Tip #2 comes in incredibly handy to help Rod-Runners balance when fishing rough terrain but it also helps in vehicles and vessels.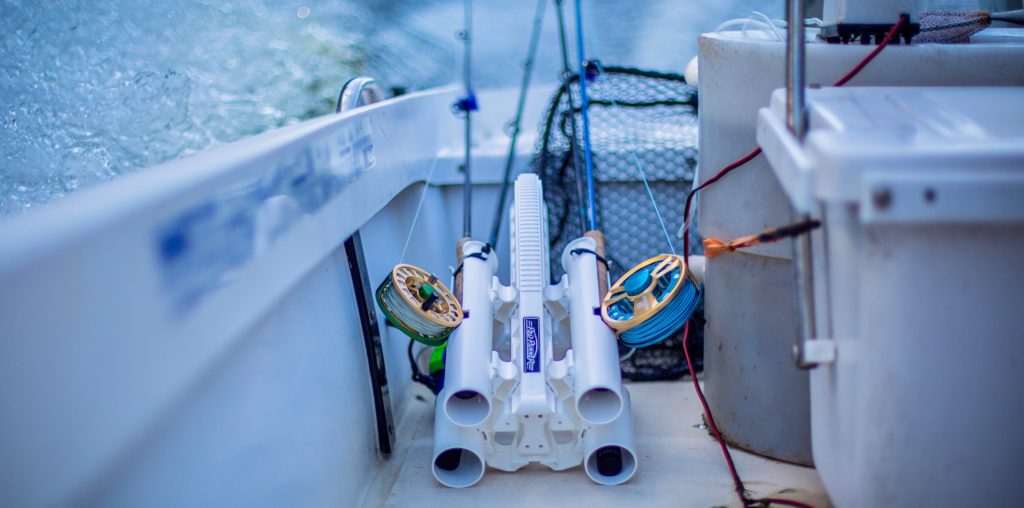 *NOT FOR HEAVY TACKLE*
We must stress that Tip#2 is ONLY intended for fly fishing and light tackle rods! When only locking rod holders into one tab, the weight limit of that holder is reduced, and not capable of handling heavier tackle. This is why we strongly recommend this technique only be used for fly rods or light tackle fishing poles.
SO BASICALLY…
Try it out on your Rod-Runner next time you're fishing rough terrain and let us know what you think? Stay tuned or hit next for Tip#3 that easily allows you to carry more fishing gear right on your Rod-Runner!
Share any #RodRunner tips, tricks, and modifications you've tried with us, and we'll share them with all Rod-Runner anglers! 
https://rod-runner.com/wp-content/uploads/2019/01/20200106_122652.jpg
1162
1162
Xiques Frank
https://rod-runner.com/wp-content/uploads/2019/11/rod-runner-xmas-lights-logo-no-background-e1574778972758-300x101.png
Xiques Frank
2019-01-24 07:39:44
2020-01-06 19:16:38
Tip #2: Increased Stability Fishing Rough Terrain